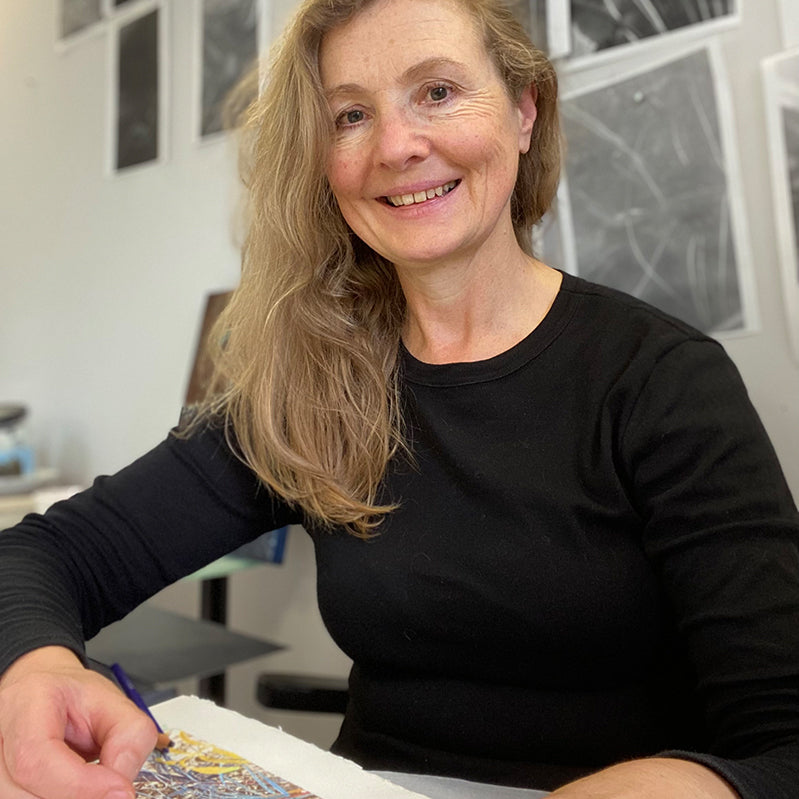 Marianne Nix
Marianne Nix's work is concerned with the relationship between human activity and nature. 
Nix lives and works in London. She draws together cumulative influences from History and personal experience. Her photographs of far flung landscapes, tropical plants from neighbours' gardens and Kew Gardens glass houses, wild flowers from allotments and road sides are re-imagined and re-cast using digital manipulation, hand printing, and oil glazed layers bringing together the old and new.
Hampstead Heath and exotic Landscapes, often associated with beauty and relaxation, are tinged with an ambiguity regarding our relationship with nature. The artworks evoke a sense of nostalgia for foreign lands and times when we were not aware of climate change and our impact on nature.
Nix's visit to Antarctica, the letters between close friends Charles Darwin and JD Hooker (Director of Kew Gardens), 19th Century scientific explorers, are some of the starting points for works; The Glass house plants of Kew Gardens are made technicolor to bring to mind the heat, the exotic, and the fragile entanglement between human and non-human lives that form our vital ecosystems.
Graduating from Gloucester college of Art, BA(hons) fashion design 1982, MA digital interactive media, Middlesex College of Art 1998, her prints and paintings are exhibited widely. Highlights include Woolwich International Print Fair 2022 curated hang, Gallery Christian Collin; The international Salon du livre et de l'estampe au Grand Palais, Paris, France (2020,2021). The Royal Academy Summer Exhibition (2012,2013), The Masters 2016 (Etching), Royal Society of Painter-Printmakers, BITE 2012 Artists making prints, The Mall Galleries.
View Marianne's work